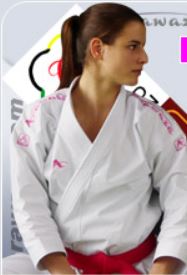 J'ai besoin de 4 en top et 3 en pantalon merci
Arawaza Amber Evolution Limited Edition PINK, Karate
Same uniforms as Amber Evolutiuon except all embroidered logos are PINK to give your uniform a unique and stylish look...
Arawaza Amber Evolution meets the highest standards of top quality Japanese uniforms.
After many years of intense research, Arawaza is proud to introduce its finest kata uniform that is certain not to disappoint. In collaboration with top athletes and masters worldwide, we have put in this technical uniform all our efforts and experience to bring you unmatched quality and performance, guaranteed.

This kata uniform maintains its sharp crisp shape and has unmatched snap effect ideal for when performing fast techniques and moves. Outstanding karategi for top Kata practitioners and competitors at the highest levels.
NOTE: This uniform it is NOT WKF Approved therefore cannot be worn in official tournaments sanctioned by WKF. However very popular amongst coaches, instructors and athletes in various events or trainings.