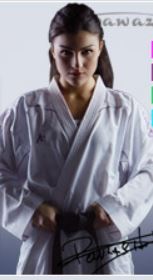 Arawaza Onyx Zero Gravity Limited Edition, Karate
We never settle for ordinary that's why we've created the Onyx Zero Gravity which is the most technical and advanced kumite uniform ever made.

Extremely light and resistant will offer the best performance during the highest level competitions and intense trainings.  

Endorsed and worn by numerous world champions it quickly became the number one kumite uniform worldwide.
NOTE: This uniform it is NOT WKF Approved therefore cannot be worn in official tournaments sanctioned by WKF. However very popular amongst coaches, instructors and athletes in various events or trainings.
6oz lightweight, microfiber.