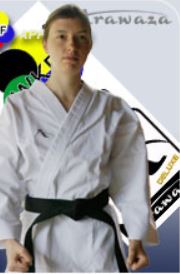 Arawaza Kata Deluxe, Karate
Officially approved by the WKF (World Karate Federation)
A high quality Kata uniform at an affordable price.
Arawaza is proud to introduce another Kata uniform in the Deluxe series at a competitive price.
Without leaving out any of the top features of a high end uniform, the Arawaza Kata Deluxe uniform will offer you the same quality and performance as you would expect from any Arawaza products during intensive trainings and competitions.
This Kata uniform maintains its sharp crisp shape and has a snap effect ideal for when performing fast techniques and moves, these are only a few of the features that make the Deluxe Kata uniform the best value for quality in its class.
Jacket comes with the ''A'' embroidered logo on the right chest and back of the neck.
Trousers with elastic waistband and additional drawstring (from sizes 000 to 2) and drawstring only for all other sizes.
12oz, 100% heavyweight canvas cotton.