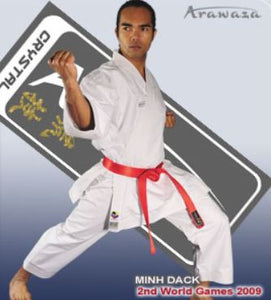 Always the perfect fit.
I love my Arawaza. The balance between fit, weight and contort is awesome and even after many washes it keeps the form and the snap.
Arawaza Crystal, Karate
Officially approved by the WKF (World Karate Federation)
Arawaza Crystal is made with the highest quality heavyweight fabric developed exclusively by Arawaza through extensive research and testing with accomplished karate competitors of many styles worldwide to guarantee the best combination of performance, comfort, feel and look from our tournament karate uniforms.
This karate uniform maintains its sharp crisp shape and has unmatched snap effect ideal for when performing fast techniques and moves. Outstanding karate uniform for top Kata practitioners and competitors.