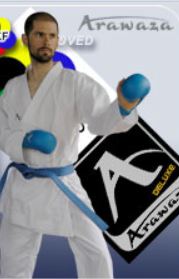 I takes too long to get it. The other way it was good, 😋
Arawaza Kumite Deluxe, Karate
Officially approved by the WKF (World Karate Federation)
A high quality Kumite uniform at an affordable price.
Without leaving out any of the top features of a high end uniform, the Arawaza Kumite Deluxe Uniform will offer you the same quality and performance as you would expect from any Arawaza products during intensive trainings and competitions.
Aeration features, light embossed fabric, modern design and very resistant, these are only a few of the features that make the Deluxe Kumite Uniform the best value for quality in its class.
Jacket comes with the ''A'' embroidered logo on the right chest and back of the neck.
Trousers with elastic waistband and additional drawstring.
Minimal shrinkage, 8 oz, lightweight embossed designed poly/cotton blend.