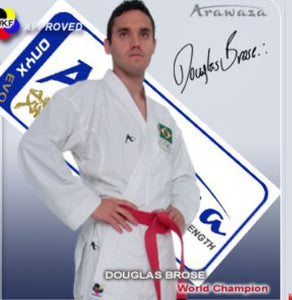 Arawaza Onyx Evolution, Karate
Officially approved by the WKF (World Karate Federation)
The Onyx Evolution offers a sleek modern design and top quality manufacturing details. It is one of the most advanced kumite uniform on the market that will help you achieve your highest performances. This uniform has advanced features that makes it outstanding in its class and the number one choice for serious kumite practitioners desiring the most efficient, stylish and comfortable fit.
Although extremely light, it is very resistant. It offers maximum breathing and will resist during intensive kumite training and competition while offering greatest mobility. With a luxurious appearance, will not stick, shrink nor wrinkle and dries very fast.
7oz lightweight, microfiber.