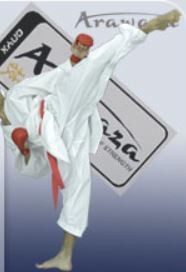 Arawaza Onyx, Karate
Officially approved by the WKF (World Karate Federation)
The "ONYX" is an exclusive top quality sparring uniform specially designed for serious sparring competitors and made from a spun yarn woven dobby fabric with an attractive grain design embossed. This fabric has a special function of anti-bacteria and deodorization by "BIO" treatment.
Minimal shrinkage can be expected from this karategi which offers better mobility and breathing.
In spite of its lightness, the Onyx will resist under relentless kumite training and competition.
8 oz, lightweight embossed designed poly/cotton blend.