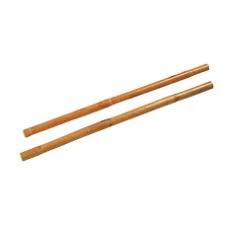 Beautiful sticks!
Arrived promptly and very well packaged. Very nice sticks to practice with.
POOR SERVICE / Crappy service
Crappy delivery service
I placed my order on Sept 28th, I tried to contact them, after several attempts I received a message telling me that my order had been shipped, but the tracking indicated that the label had just been made on Oct 11th, after 2 calls and 2 emails. My order had never been shipped.. Visit KontactSport, I received my order in 2 days. Martial does not deliver without insisting.
Great Escrima Sticks
Good quality, quick shipping
Great Customer Service
Great Customer Service in my dealings with The Martial Artist. Good product as well, Kali / Escrima Sticks are of high quality.
Kali / Escrima Sticks
Light weight 26" escrima sticks made out of rattan, with multiple knots and clear protective sealing. Sold in pairs.