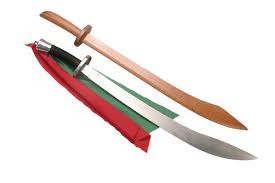 Excellent Sabre Practice Sword
I received the wooden sword and was gratified to see how well it was made and finished -- even better than I expected. It gives me the weight and length I need to practice Tai Chi Sabre more effectively than I had been doing with a thin, light homemade Tai Chi sword. Thank you for the good service, and for offering this fine practice sword.
Kung Fu Broadsword
I'm glad to got the Kung Fu Broadsword from them!
Kung Fu Broadsword
This 32' sword is beautifully crafted from Wood. The blade features an etched blood groove in the 26" movement. Hardwood broad sword is carefully sanded for a smooth elegant finish. Grooved blade resembles a real broadsword. Perfect for training purpose.